[fusion_builder_container hundred_percent="no" hundred_percent_height="no" hundred_percent_height_scroll="no" hundred_percent_height_center_content="yes" equal_height_columns="no" menu_anchor="" hide_on_mobile="small-visibility,medium-visibility,large-visibility" class="" id="" background_color="" background_image="" background_position="center center" background_repeat="no-repeat" fade="no" background_parallax="none" enable_mobile="no" parallax_speed="0.3″ video_mp4="" video_webm="" video_ogv="" video_url="" video_aspect_ratio="16:9″ video_loop="yes" video_mute="yes" video_preview_image="" border_size="" border_color="" border_style="solid" margin_top="" margin_bottom="" padding_top="" padding_right="" padding_bottom="" padding_left=""][fusion_builder_row][fusion_builder_column type="1_1″ layout="1_1″ spacing="" center_content="no" link="" target="_self" min_height="" hide_on_mobile="small-visibility,medium-visibility,large-visibility" class="" id="" background_color="" background_image="" background_position="left top" background_repeat="no-repeat" hover_type="none" border_size="0″ border_color="" border_style="solid" border_position="all" padding_top="" padding_right="" padding_bottom="" padding_left="" dimension_margin="" animation_type="" animation_direction="left" animation_speed="0.3″ animation_offset="" last="no"][fusion_text]
A LETTER FROM THE PRESIDENT
---
A Message From Bronwen Fullington, President of CVA:
In these confusing times, when we find ourselves separated by circumstances beyond our control, we can find solace and connection through the arts.
Music, visual arts, literature and spoken word are all ways we can connect with the best in humanity.
So, make your art, look and listen to the art of others, read, and look at nature. There are many museum collections available on the Internet, as well as music and poetry.
I am sad to say that, because of the Covid-19 crisis and general shutdown of town and state, Clayton Visual Arts is obliged to suspend its activities for the duration. This means that until it is deemed safe to do so, we will not have monthly meetings at the Clayton Center, nor will we be able to hang our scheduled shows for April, May and June. Educational and community activities are also on hold.
Looking forward to coming together and continuing to enjoy art and each other in Clayton.
Warm wishes,
Bronwen Fullington, CVA President
[/fusion_text][fusion_tabs design="classic" layout="vertical" justified="yes" backgroundcolor="" inactivecolor="" bordercolor="" icon="fa-sort" icon_position="" icon_size="" hide_on_mobile="small-visibility,medium-visibility,large-visibility" class="" id=""]
[/fusion_tab][fusion_tab title="Moore County Fine Arts Festival" icon=""] 40th Annual Exhibit in Southern Pines
This non-juried exhbit not only awards $2,800 in prize money, but also several purchase awards from local business owners. All visual media are welcome, including 3D. There are several delivery dates in July, with the show running through August. Learn more HERE.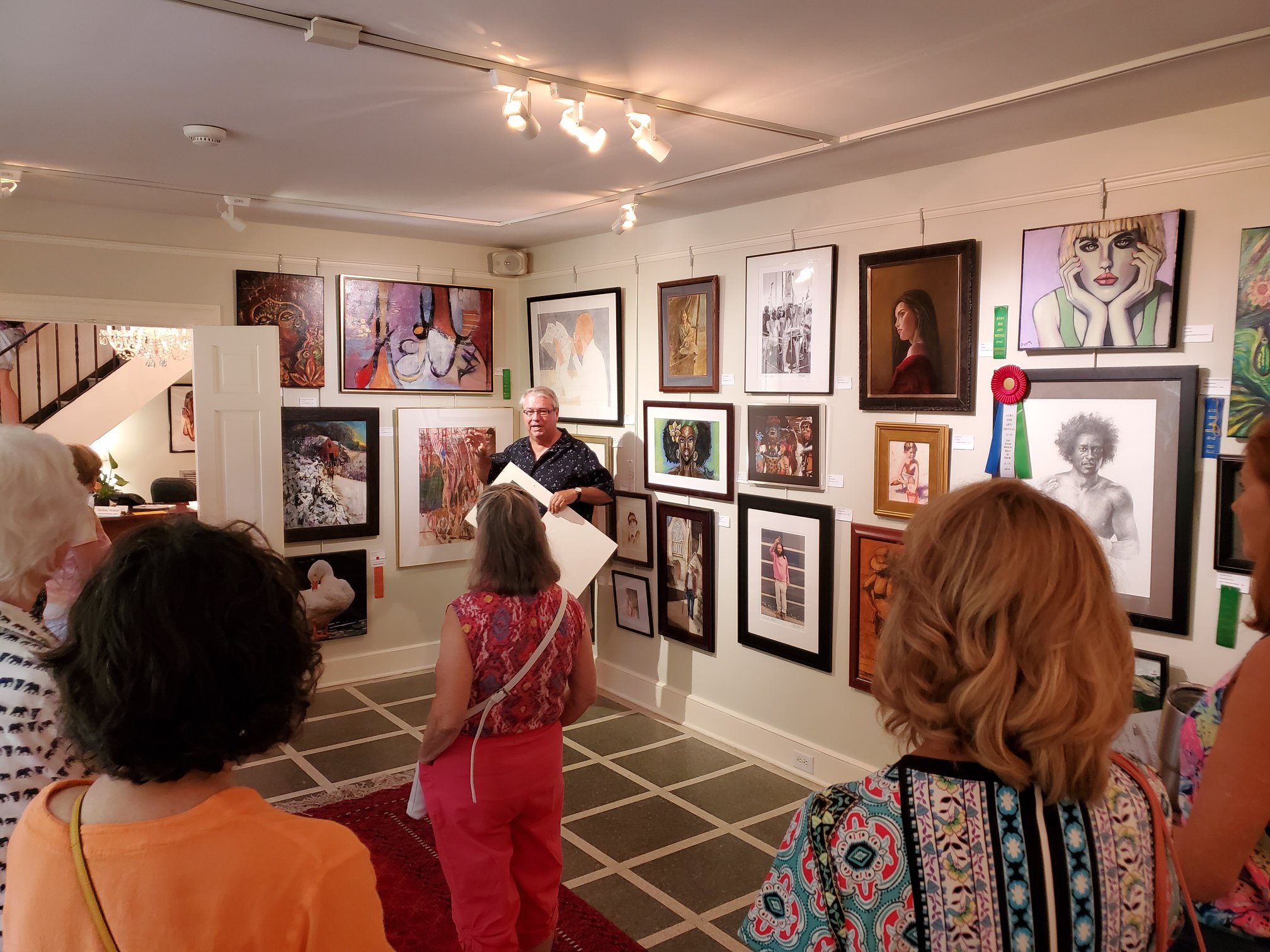 [/fusion_tab][fusion_tab title="Clayton Art Faire 2020″ icon=""] 22nd Annual 2D art competition
The Call to Artists for Art Faire 2020 will soon be accessible through CaFE.org. Deadline to enter this year's juried-entry exhibit is August 21st, 2020. Awards presentation will take place Thursday, September 3rd at The Clayton Center.
This year's judge and juror is Jean Grunewald. View her amazing artwork at jeangrunewald.com
[/fusion_tab][fusion_tab title="Raleigh's ArtSpace offers summer classes" icon=""] First class to begin in late May
Raleigh's ArtSpace has an exciting list of classes scheduled for this summer. Class sizes are limited to 10 students each. View the schedule HERE.
[/fusion_tab][fusion_tab title="April Artists" icon=""] Here's a peek at the artwork we would have exhibited. . .
Due to quarantine measures, an exhibit of mixed media artwork by Susan Miller and watercolors by Kristin Crittenden will be postponed until next year. Here's a sample of their work, along with links to see more.
[/fusion_tab][/fusion_tabs][/fusion_builder_column][/fusion_builder_row][/fusion_builder_container]