A LETTER FROM THE PRESIDENT
---
A Message From Bronwen Fullington, President of CVA:
Greetings from the heart and heat of August! Hope you are all staying cool and creative. CVA is continuing to provide opportunities to view and participate in art and craft – we had a presence at Last Friday in Clayton on July 26, and at the Clayton Farm Market on the 27, and plan to do the same this month on August 30 and 31.
Our new board and officers are working hard to continue the activities and services that CVA has long provided, and to develop some new programs.
I want to thank Jeanne George, VP and the rest of the board who will be covering for me for the month of September, while I will be on a long anticipated trip to Italy.
Sincerely,
Bronwen
Enter CVA's most prestigious art competition
Artists of all 2D media (including photography) are encouraged to enter. All entries are through callforentry.org (CaFE). This is a juried-entry show with $2,100 in prizes being awarded. Deadline to enter is August 19, 2019. This year's juror and judge is Nicole White Kennedy. Learn more about Kennedy here. Link to Art Faire prospectus and entry HERE.
CVA members receive $10 discount on entry fee with Promo Code: AFCL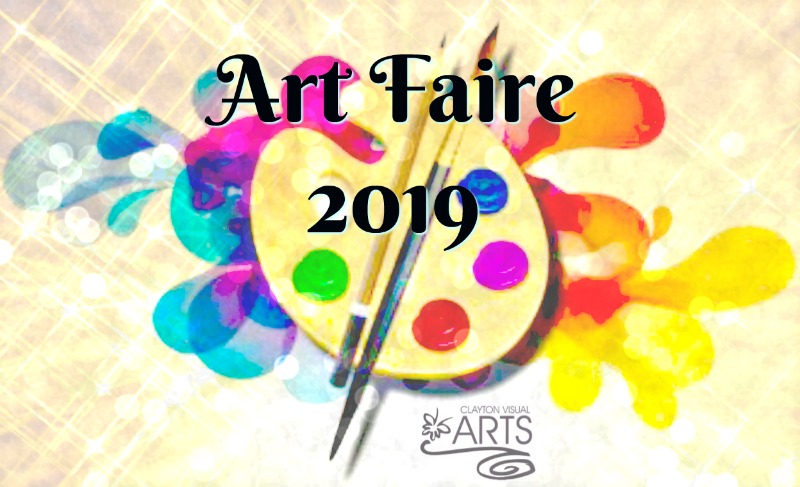 Exhibit your artwork at The Clayton Center
Artists of all 2D media are invited to apply to have their own art exhibit at The Clayton Center. Monthly shows are usually 2-artist events, but artist groups are also welcome to apply. Click HERE for prospectus and application form. Deadline to enter is October 18, 2019.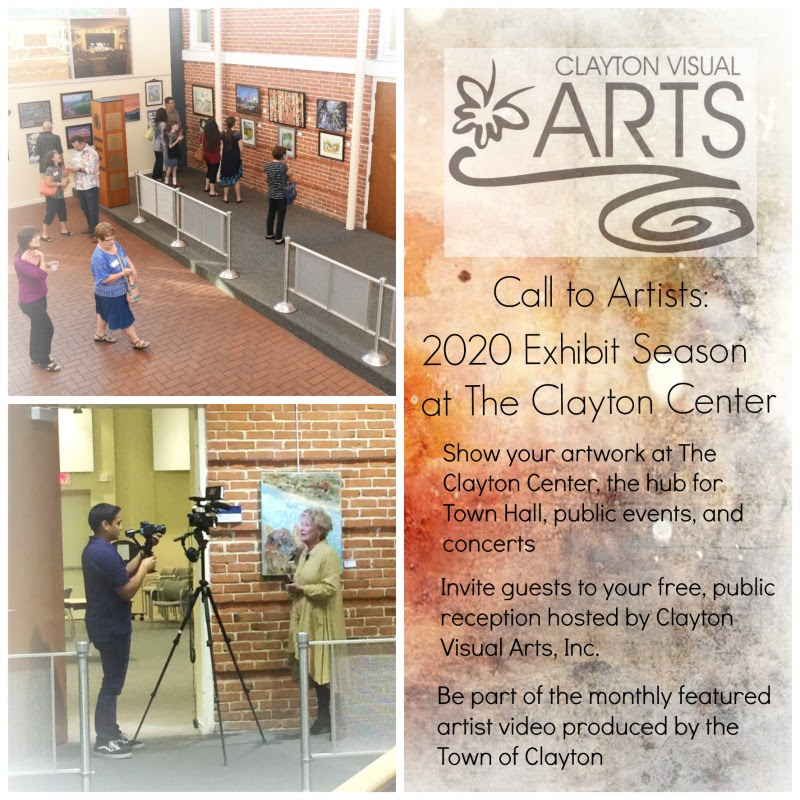 Sesquicentennial display from local artists
A handful of CVA artists have their artwork on display at Skylines Cafe. The paintings were part of this spring's Paint the Town competition. The following artists have contributed one or more paintings for this display:
Jo Lee Tucker
Catherine Donleycott
Amy Beshgetoorian
Heidi-Lee Peach
Krissy Crittenden
Jim DeCresie
David Lennon
Display and demonstrate art at Clayton's Farmers' Market
Clayton Visual Arts has reserved space at the Clayton Farm & Community Market on the last Saturday of each month. CVA artists may display and sell their work, as well as demonstrate techniques and teach interested children and adults. The next Art at the Market event will take place on August 31st, 9:00 am to 1:00 pm. Email benchadwick@photographer.net if you wish to participate.