Clayton Visual Arts All Member Show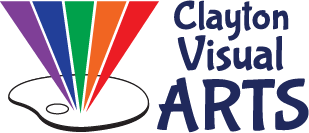 CVA proudly presents an exhibition of art created by local artists at the Clayton Center during the month of September. 
Eligible artists should complete the Online Entry Form. Deadline Aug 27.
Rules and Eligibility below.
Rules and Eligibility
The exhibiting artist must be a CVA member in good standing to participate in the show. (Join or Renew HERE).
Entry is open to all 2-dimensional mediums.
CVA reserves the right to disqualify any work that does not meet generally accepted community standards of good taste.
Only one entry accepted per artist.
Artwork does not need to be for sale. NFS accepted.
All artwork must be the original work of the exhibiting artist.
Artwork must be wired (no sawtooth hangers) and ready to hang; cannot exceed 35 pounds.
All artwork must be hand delivered. No mailed art will be accepted.
CVA and The Clayton Center are not responsible for loss or damage of artwork. Artists should insure their work if they desire.
You may submit 2 pieces. The second piece will only be accepted if there is available gallery space.
If you have any questions about the rules or eligibility, please contact us.
Thursday, August 24 – Last day to mail entry form.
Sunday, August 27 – Deadline for online entry and/or changes to submitted entries.
Friday Sept 1 – 9:00-10:00am. Deliver artwork to The Clayton Center, 111 E. Second St., Clayton, NC.
Thursday, Sept 14 – Free reception 6:00-7:30pm.
Monday, Oct 2 – Pick up artwork before 10:00am.
Sales
Clayton Visual Arts handles art sales from this exhibit and receives 30% commission on all sales of entries. Artists are responsible for sales tax on works sold.
A printable entry form can be downloaded HERE
Mailed entries must be postmarked by Thursday, August 24, 2023.
Clayton Visual Arts, Inc.
PO Box 698
Clayton NC 27528