"The Great Wave off Kanagawa" By Hokusai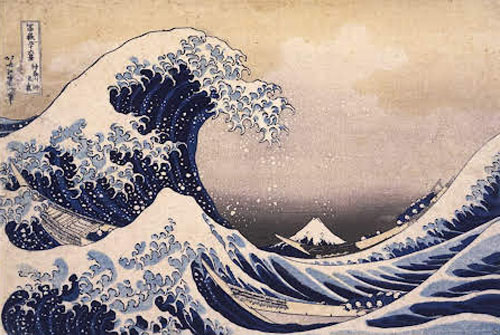 This is the first Print in a series of thirty-six views of Mount Fuji.
This is a wood block print. The Japanese artist Hokusai was about 74 years old when he chiseled his drawing into wood in 1831. It was then painted and paper was pressed down on the wood to create a print. It is 10 inches by 15 inches.
Try drawing a large wave! Use Crayons, or Marker, or Pencil, or Paint! Start by drawing the letter C. A wave curves like the letter C. Add some water droplets ( tiny little c's ) on the top of the letter C, ( your first wave). Draw large and small waves.
The large Volcano in the background has been dormant since its last eruption in 1707. It is called Mount Fuji. Can you find 3 Boats in the water? How many people are in the boats?
You can also use white crayons for the top of the waves, and then watercolor over them, the crayons will resist the Watercolor and stay white.
ENJOY!