A LETTER FROM THE PRESIDENT
---
A Message From Bronwen Fullington, President of CVA:
As we move into the holiday season, CVA and its members will be participating in Christmas in Clayton in conjunction with the Clayton Woman's Club. This year we are at at Portofino, with the art show and sale in the Clubhouse and several beautiful homes to view. Members are selling tickets, which are also available on our website and at the door, Sunday December 8 from 2 till 5. Tell your friends and neighbors! For our December meeting, we are planning a field trip to NC Museum of Art for lunch and the Frida Kahlo/Diego Riviera exhibit, so there will be no meeting at The Clayton Center. We will start the New Year with both a board and members' meeting on January 7th.
Happy Thanksgiving to all!                                –Bronwen
A trip to the NC Art Museum in lieu of general meeting
Instead of a December meeting, CVA has organized a trip to the NC Museum of Art to see the Frida Kahlo exhibit. The group will meet to carpool from the parking lot of the Church of Clayton Crossing (behind McDonald's), 11407 US 70 Hwy Bus West, Clayton at 11:00 am. After enjoying lunch at Iris Restaurant, the group will begin its tour. Please contact Catherine Donleycott  cdesigns4u@gmail.com no later than November 22nd if you would like to join in the fun! Museum members already have extra tickets to share with you for this ticketed exhibit.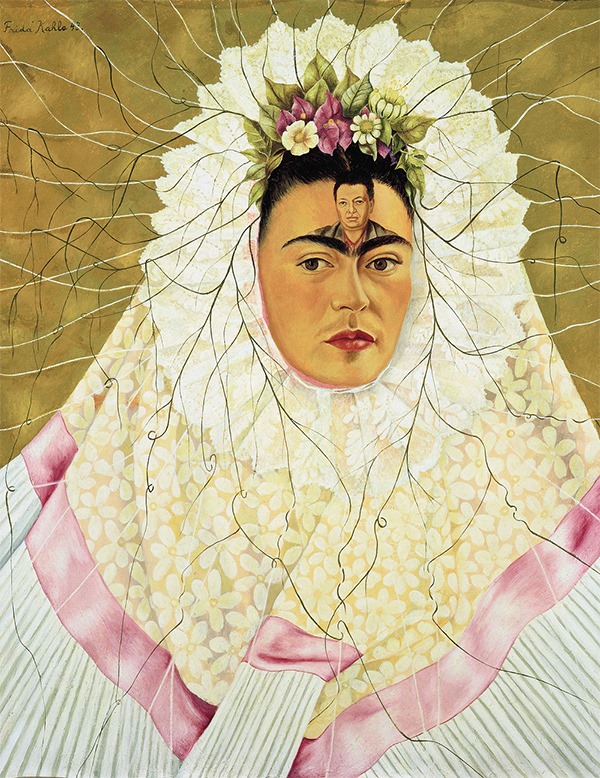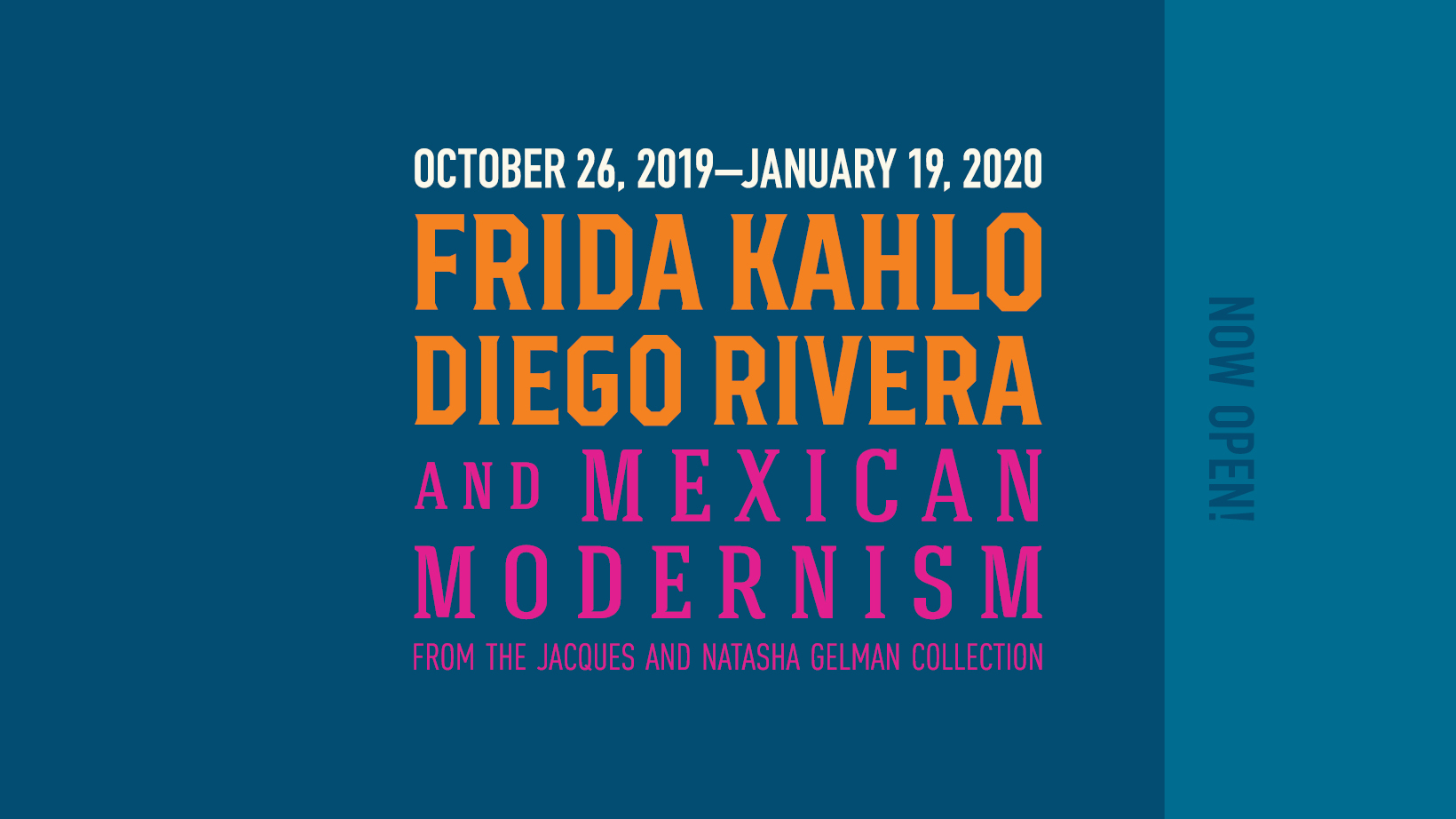 Bronwen Fullington and Deborah Coates took home blue ribbons!
Congratulations to Deborah Coates and Bronwen Fullington for earning ribbons at this year's Stat Fair. Coates was awarded for her felted wool and photography. Fullington was awarded for knitting and yarn spinning.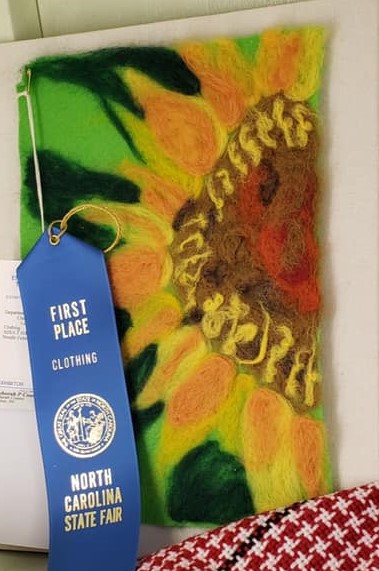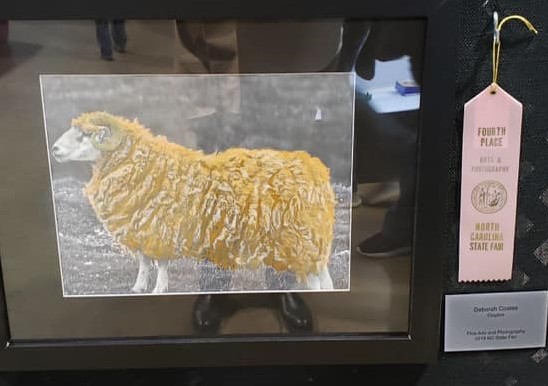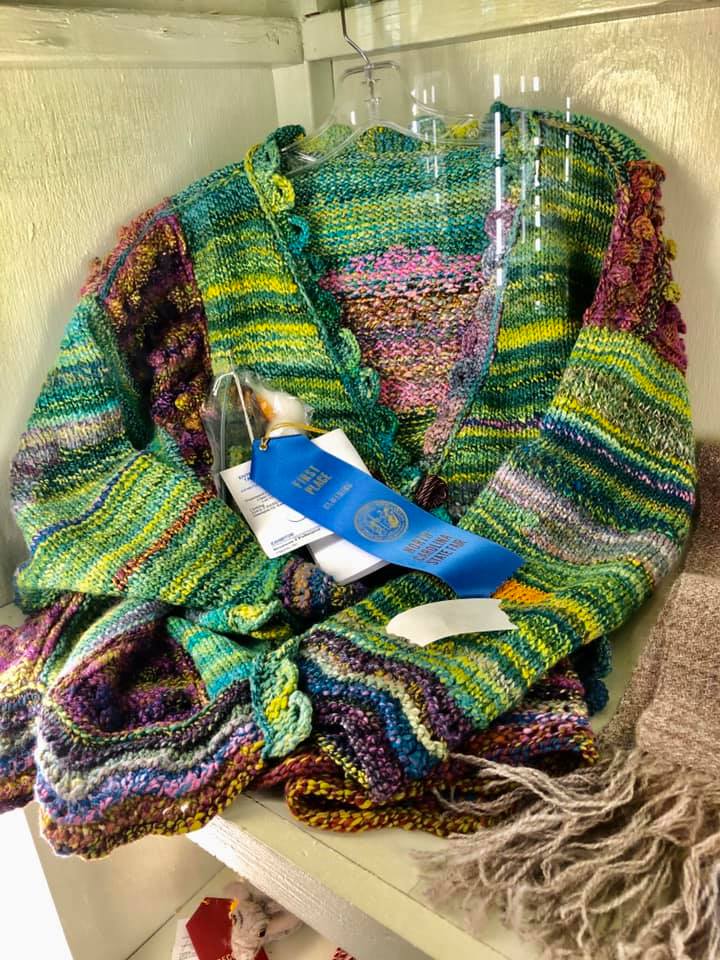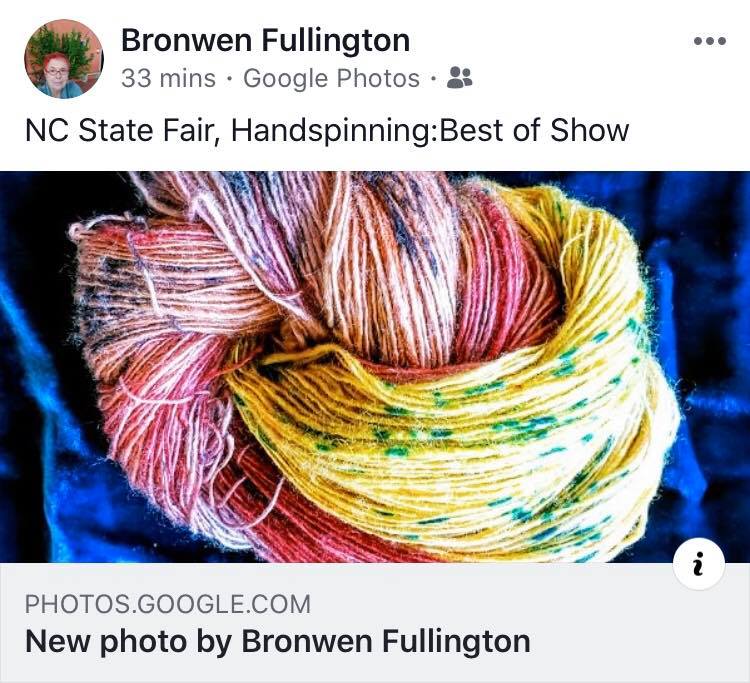 8th Annual Art & Home Tour December 8th
Christmas in Clayton Art & Home Tour: Sunday December 8th, 2:00 pm to 5:00 pm at Portofino Equestrian Subdivision. CVA is partnering with the Woman's Club of Clayton for this year's event. Six private homes plus the magnificent barn will be open for touring. More than a dozen local artists will have fine art gifts (including jewelry, pottery, ornaments, note cards, prints, and original paintings) on display for purchase at the Portofino Clubhouse. Funds raised are given as art supply grants to local public school art projects through the Dorothy Demboski Teacher Assistance Grants. Tickets may be purchased ONLINE or from a Woman's Club or CVA member. Be sure to "like" the Christmas in Clayton Facebook page to stay current on details as they emerge.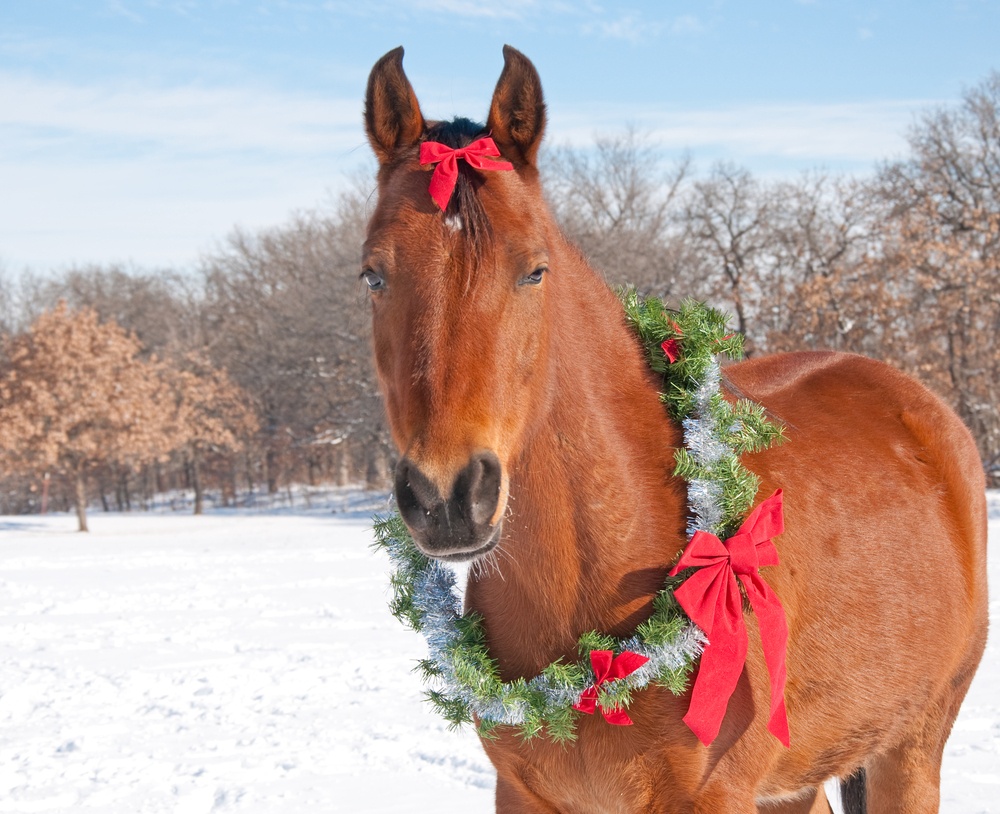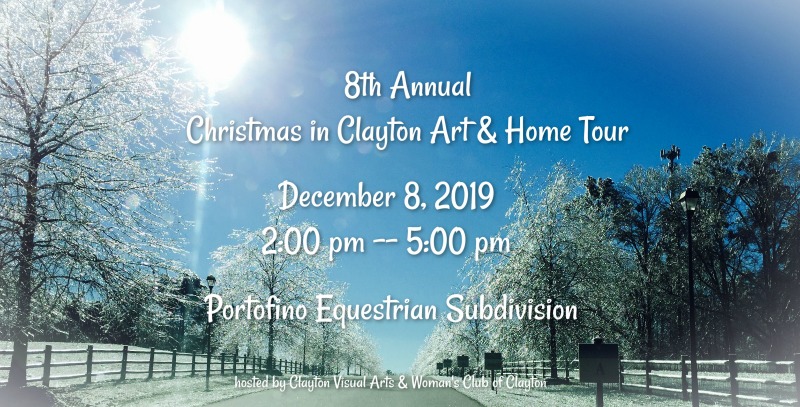 Jack Singles and Jeanne George exhibit their artwork
See watercolors by Jeanne George and acrylic paintings by Jack Singles at Clayton's Hocutt-Ellington Memorial Library.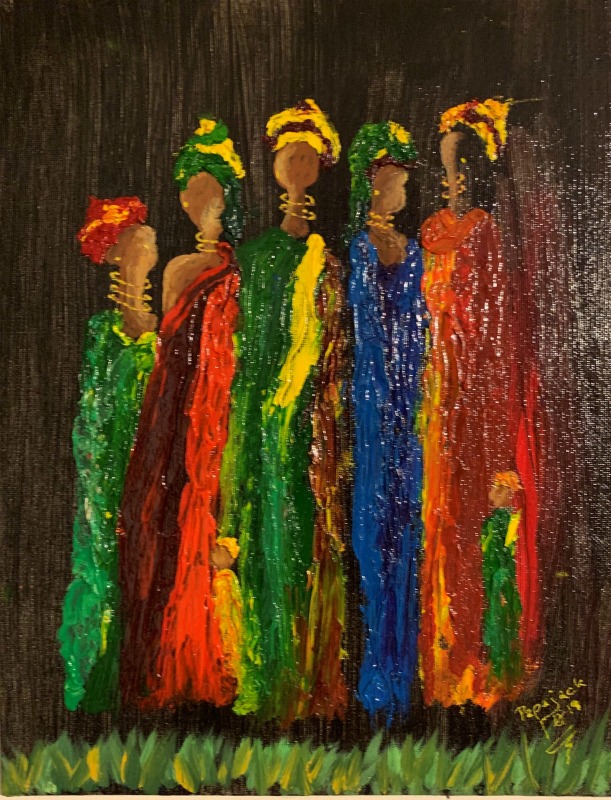 Heidi-Lee Peach has artwork on display at Skylines Cafe
Skylines is decorated with Peach's artwork in various paint media. Skylines Cafe is located at 8878 U.S. 70 Business Hwy W #100, Clayton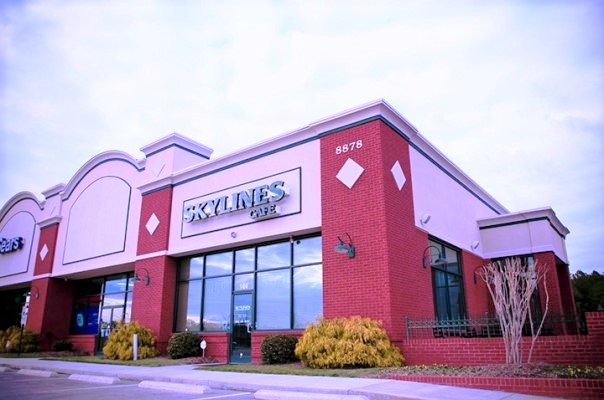 Paintings on display through November at Smithfield's Visitor's Center
Catherine Donleycott has oil and watercolor paintings on display at the Triangle East Chamber of Commerce in Smithfield. She also has artwork exhibited at Artmosphere.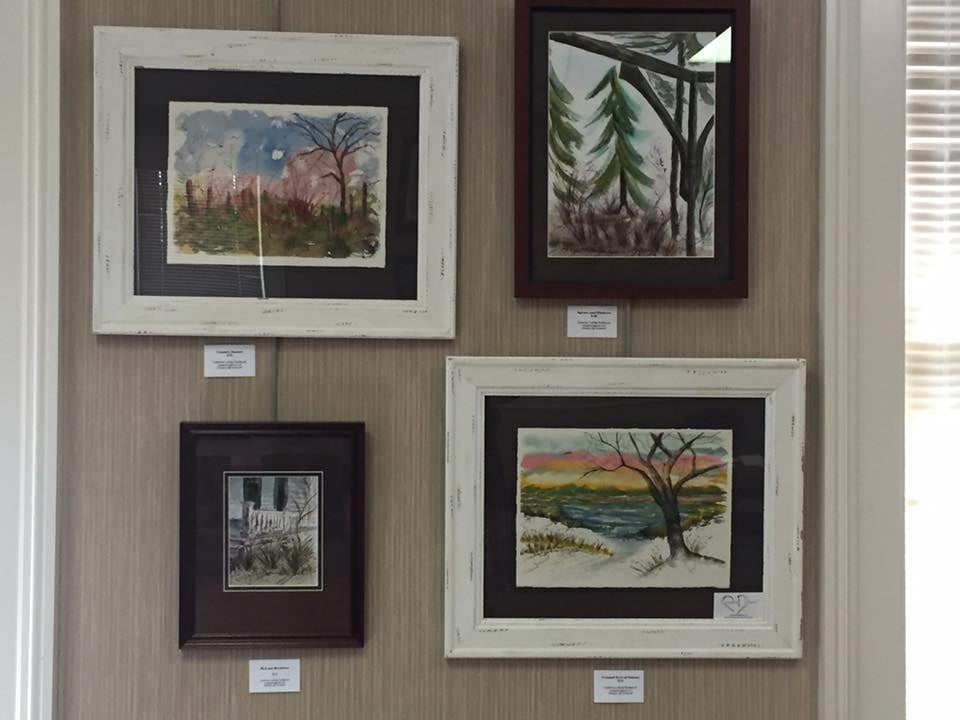 See Deborah Coates' photography at Manning's Restaurant
Deborah Coates is exhibiting photography from her recent trip to Scotland. Manning's is located on Clayton's Main Street.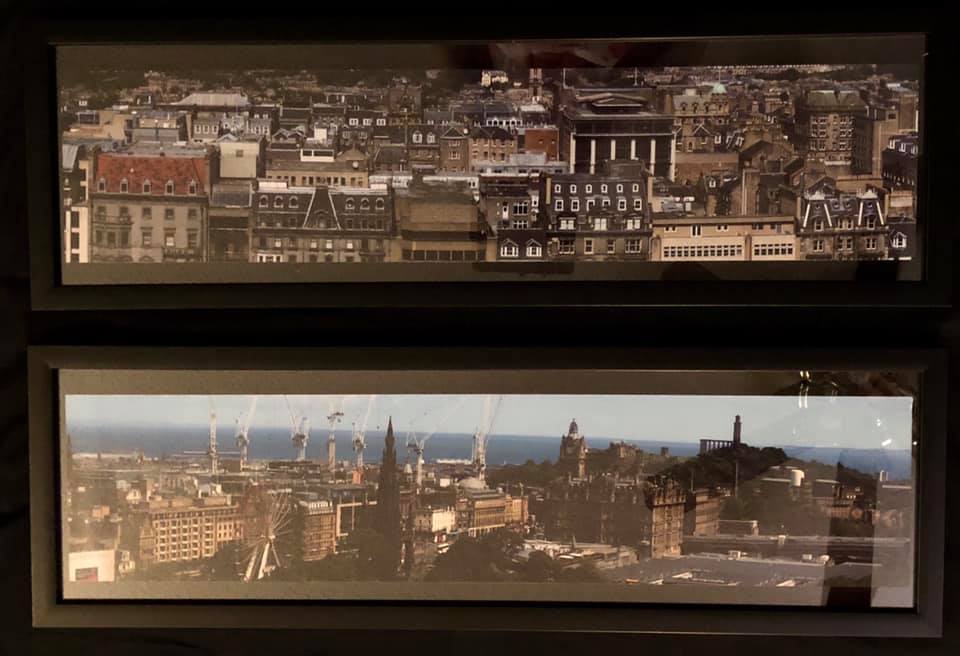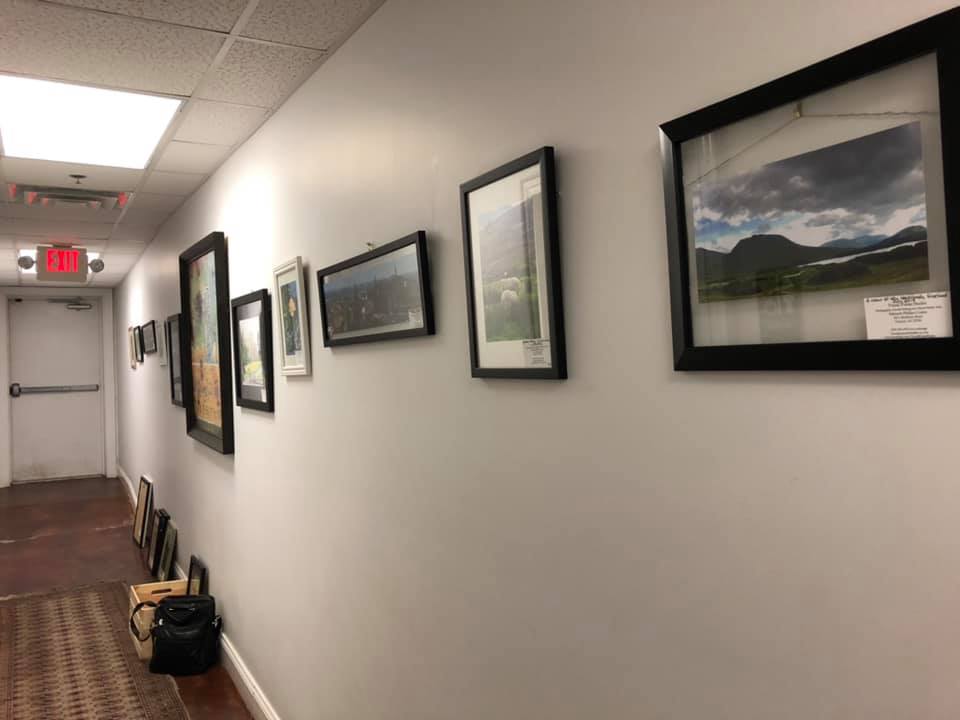 Shop artwork by Jo Lee Tucker and other local artists
Enjoy holiday gift shopping at the Johnston County Arts Cooperative's Christmas Open House. Wednesday, December 4th from 4-7:00 pm. Contact Michelle at michellefields919@gmail.com or (919) 915-0415 if you would like more information.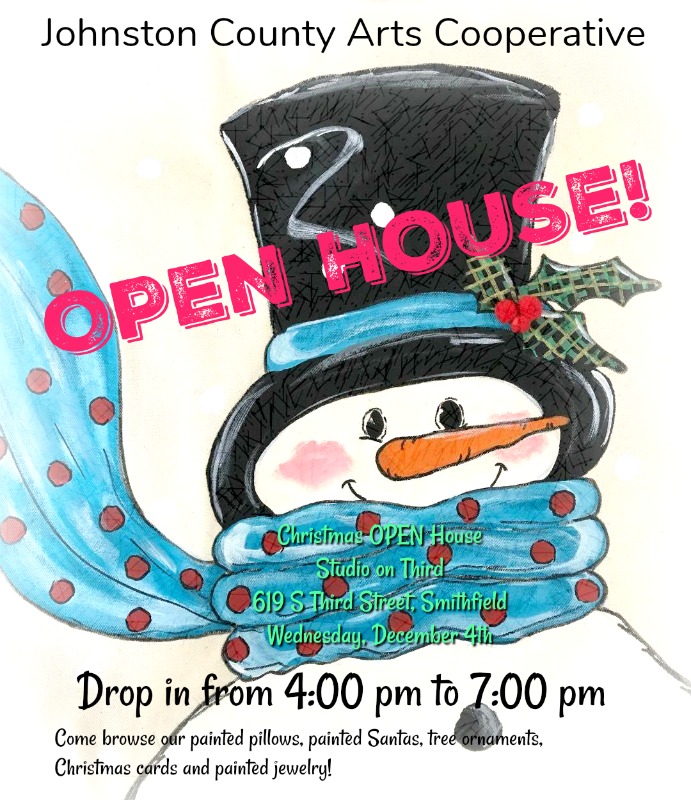 Presentation Matters by Jane Chapin
from fineartviews.com
When I taught elementary art and did my annual end of the year show, most of my time was used up in mounting the students' work. Each student only had one piece selected for the show and the act of presenting it, even if it was mounted on a sheet of construction paper, made a huge difference. It not only made the show look more impressive but it made the students more impressed with their own ability. It gave the aura of importance to their work and pride they may not have had. Are grown-ups that different?
Tempera painting by a third grade student, double mounted on paper, 9 x 12
I recently posted an opinion choice between two gallery quality frames on Facebook and got over 50 opinions on which looked better complete with detailed reasons why or why not. I can almost guarantee that if I had included a photo of the same painting in a very cheap box store frame, I would have gotten a different, less equal result. At an opening of a regional show of various level artists I noticed many poor framing choices that either did not help or actually detracted from the painting. If I had one thing to say to most of them it would be, "Your work deserves a better frame." I have actually gone up and said this to young artists, followed by "That is a compliment."
Jane Chapin, "Corrales Adobe" 10 x 8 Oil (Gallery closed corner frame)
Putting a decent frame on a painting need not be expensive or custom made and it makes a world of difference. You can usually get one for under $50 unless it is a large painting and that is probably only $25 more than you would spend on a cheap one. I remember watching a PAPA member judge a show once and his commentary that in judging, it is really hard to see past a bad frame to just judge the painting. That little bit of extra money usually pays off with an award or a sale. If it doesn't, you can always use the frame on another painting.
So how do you find and choose good frames without putting a second mortgage on your house? For the purpose of this blog I am going to leave out the possibility of having time and money to order a custom frame for each painting as if it were going in the Met.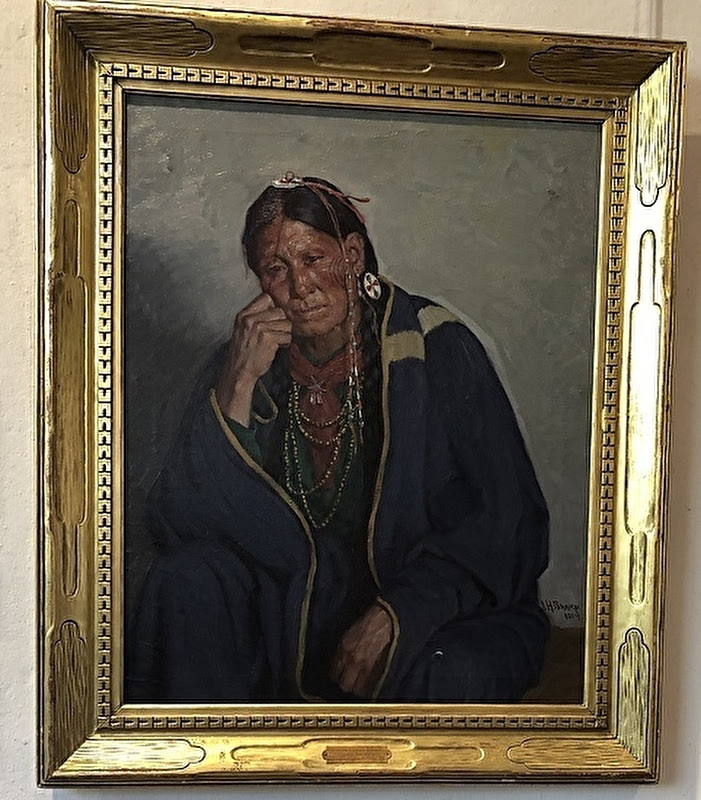 Joseph Henry Sharp painting in a hand carved 22k gold frame that is beyond most artist's means
Recognize that there are trends in framing. One year, shiny gilt frames may be in and the next, sleek modern black may be the frame du jour. Frame sales are tempting and I have made the mistake of "stocking up" on a good deal only to find myself unable to use them down the road. My go-to frames now are simple profiles that are durable for shipping but also have some elegance (and timelessness) to the finish. I also like frames that are easy to touch up. I usually keep a variety of soft gold, champagne silver or black on hand. One of those usually works with paintings depending on their temperature and contrast. The rule of thumb is that a cool painting will look better in a silver or silver liner frame and a warm painting will look better with gold tones next to it. But there are many exceptions and the best thing to do is try them out. Never ever submit your work in a beaten up old or cheap frame. Whoever is looking at it should see your painting first.
A wood grain chop frame will probably not help your painting.
If you are shipping to a show, remember that those paintings will be handled many times, sometimes by volunteers. They will get put on the floor, bumped and stacked. The more ornate edges, if they are a composite material, are easily cracked and chipped. Wood frames are more durable and ones with fewer edges usually fare better in the hostile world of shipping to shows.
If you are shipping to a gallery where you are represented, familiarize yourself with that gallery's practices. I have seen well-known galleries with work stacked 5-deep on the floor. Either hand deliver work and take pictures of the frame condition on delivery or accept the fact that you are going to have some loss and frame accordingly. Discuss frame damage with the gallery ahead of time so you know their policy. Well-made frames are easier to repair and it may be worth the initial investment rather than tossing cheaper frames in the trash.
If you get work returned damaged from a show or a gallery where you are not represented, take a picture of the damage and politely let them know. Even if you do not get compensated, you are doing a service to the gallery owner and other artists for pointing out the problem.
If you live in an arid climate like I do half the year, frames constructed in a humid climate may separate at the corners in a few months. Keep this in mind for shipping cross-country as well.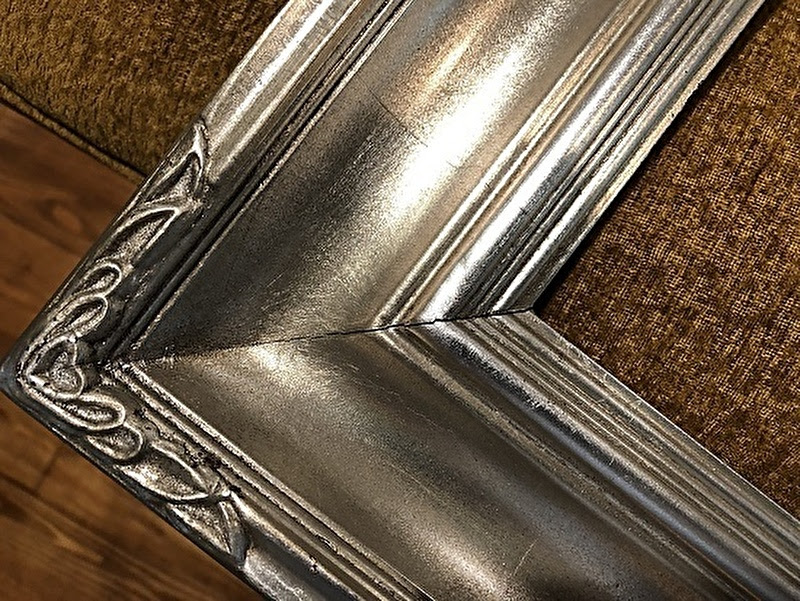 Closed corner frames may start to separate in drier climates
Whatever frames you decide to use, make a few choices that work well together. If you ship 10 paintings to your gallery, each one in a different color or profile, your work will look less cohesive than if you have 3 different colors or profiles on the wall. I generally either use the same profile in different tones or the same color in a few slightly varied profiles. It should not look like a variety wall at the second-hand store.
Finally, presentation is an indicator of your self-worth as an artist. Just as you would not go to a job interview in sweatpants and a dirty old t-shirt, put your art's best foot forward. You never know who may wander into a show and notice it.