Bringing Art Inspiration, Information, and Education to the Clayton Community
CVA is preparing for this year's virtual competition!
We're still working out the tweaks, but look forward to showcasing fabulous artwork for this juried event. See last year's award winners HERE.
Many thanks to all of you who have already entered! If you have not yet entered, please remember to use the promo code CLAF20 to save on registration
(even if you are not a current CVA member).
Enter by August 21
Please click HERE for 22nd Annual Art Faire prospectus 2020
Link to CaFÉ Entry
Clayton Visual Arts is a nonprofit 501(c)3 organization dedicated to Bringing art to Clayton. It is the main visual arts programming body in Clayton, North Carolina. Its members are volunteer artists, educators, and art lovers.
We're supported in part by The Town of Clayton Cultural Arts Foundation and private donations.
In support of the State of NC and the Clayton Community, CVA has suspended all its exhibitions, gatherings and receptions until further notice.
Thank You
CVA Gatherings take place each First Tuesday of the Month at The Clayton Center on the 3rd Floor, the Wooten Room at 12 Noon. The Art in Action will be presented by a member of CVA or a special guest.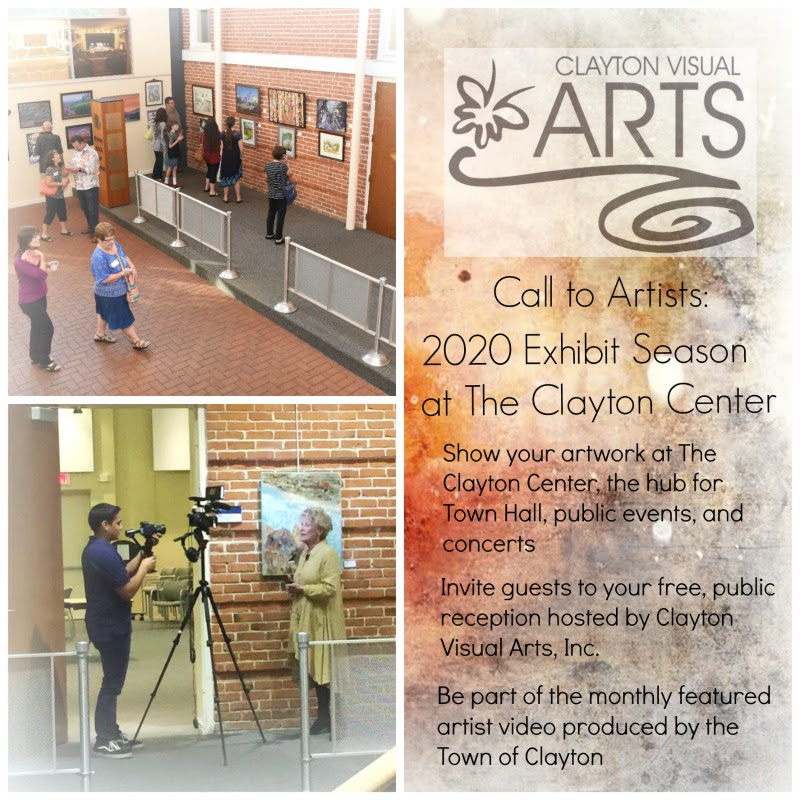 CELEBRATING DIVERSITY IN THE VISUAL ARTS
Painting – Oils, Acrylics, Watercolor
Drawing – Graphite, Colored Pencils, Pen and Ink, Oil Pastels, Pastels
Printmaking     Photography
Traditional and Contemporary Fine Crafts – Fiber, Glass, Paper, Wood, Jewelry, Felting, Mixed Media
"Every artist was first an amateur." – Ralph Waldo Emerson