Monthly Exhibitions of Art at The Clayton Center

CVA hosts 2-dimensional original art exhibits throughout the year at The Clayton Center, the hub for the Town Hall, Public events and concerts for the town of Clayton. The gallery is open during regular business hours. The public is invited to the free artists reception which is held at the beginning of each month. Check the CALENDAR for exhibit schedule information.
Application for the July '23 – June '24 is closed. 
 The 2024-25 season application will be available January 2024.

"Paint The Town" Art Competition and Exhibition
"Paint the Town" 2023 featured the talents of local artists. The artwork visually represented the beautiful town of Clayton. This years winning piece along with past winners is on display in the The Clayton Center. 
Congratulations to all the winners!
1st Place: Val Taylor
   "Clayton Painter" @valtartist 
   (pictured left)
2nd Place: Voon Wong
   "Downtown at Dusk" @artvw 
3rd Place: Yana Slutskaya –
   "Evening on Main St, Clayton"
   @artstudio.ys
Honorable Mention: Patrick Dominguez
   "Boulevard Joes" @pdomingu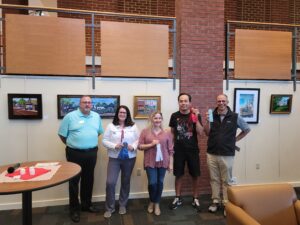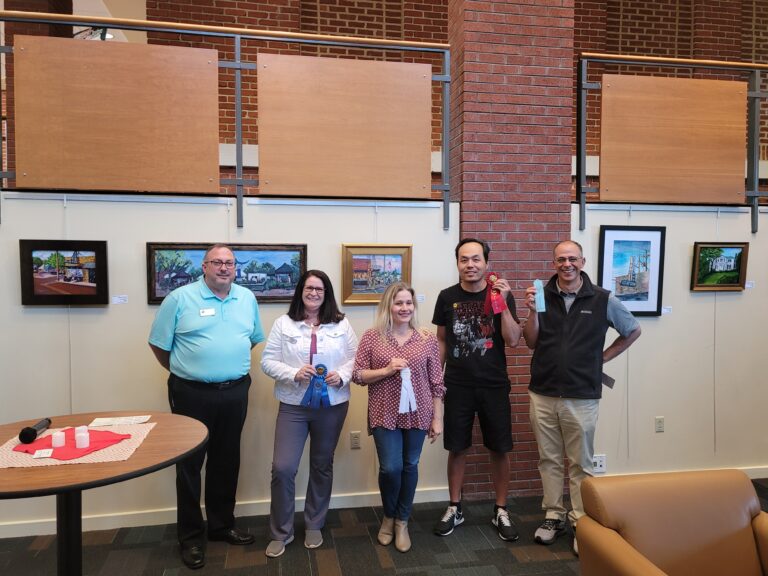 The Clayton Center Exhibit Schedule
November: Sadie Rakusin, oil and cold wax; Peggy Wickham, acrylic; Ronald Irons, watercolor

December: Robyn Scott, ink and fibers; Polly Smith, watercolor; David Lennon, acrylic; Patrick Dominguez, watercolor
2024
January: Martha Katzeff, photography; Lynn Newman, pastel; Jane Gardner, mixed media
February: The Woman's Club of Clayton and student art
March: Carolina Preserve Art Group, multiple media
April: Eric McRay, painting and collage; Corinne Miller, acrylic and watercolor; Chris Pappas, paint and pen; Bethany Hadden, mixed media on wood
May: Capture the Town, photography
June: Kathleen Nobles, oil and acrylic; Ed Frantz, acrylic, graphite and colored pencil; Medrith Nuttle, acrylic