MONTHLY EXHIBITIONS OF ART AT THE CLAYTON CENTER
Check the Events page for more information and schedule of monthly "Meet-the-Artist" receptions held at The Clayton Center, located at 111 E. Second St., Clayton NC 27520. Click HERE for info on past exhibitions at The Clayton Center.
You can pay your exhibit application fee for the July '23- June '24 year here. Selected applicants will be notified in April and will be required to pay an exhibit fee. The exhibit fee is $25 for CVA members, $35 for non-members, and $200 for groups. This fee is to partially cover the cost of your reception. Thank you for exhibiting at the Clayton Center!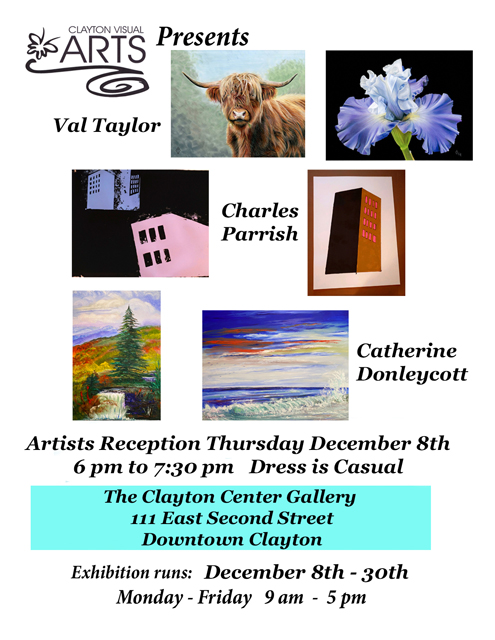 Exhibit Schedule for January - June 2023
January: Kenneth Eugene Peters, oil; Albert White, photography
February: Woman's Club
March: Jill Hunt, acrylic & mixed media; Edward L. Baxter, oil; Heidi-Lee Peach, watercolor, acrylic, oil, mixed
April: Watercolor Society of North Carolina
May: Paint the Town
June: Lyudmila Tomova, watercolor & oil; Peggy Findlay Wickham, acrylic; Joni Purk, oi